Housing market showing signs of turnaround
Last year was so dismal, home sales almost certainly have to go up in 2012. If home prices stabilize later this year, as many analysts expect, the housing market will be set for a turnaround.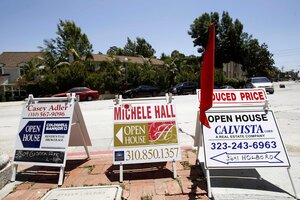 Mario Anzuoni/Reuters/File
[Editor's note: This story was updated and changed Feb. 24 because some of the quoted material in the original was wrongly attributed to employees not in a position to speak for their company.]
The real estate market is picking up in 2012.
That may not sound like much: 2011 was so dismal – the worst year for sales of new single-family homes since at least 1963 and for total construction spending since 1999 – that this year has to be better, almost by default. But 2012 is shaping up to be more important than that: It could mark the bottom of a five-year housing downturn.
The implications of such a turnaround are huge. It would mean that (1) the pool of "underwater" homeowners – who owe more on their homes than they're worth – would stop growing, (2) home builders could start hiring again, and (3) residential real estate, a key sector of the economy, would cease dragging down growth. Some analysts say the turnaround is already under way.
"It really is a good time to buy real estate," says Jay Hummer, executive vice president of RE/MAX of New England, based in Natick, Mass. "Years from now, people are going to look back and say: 'I wish I had bought real estate' " in 2012.
The market still has challenges. After doubling between 2000 and 2006, housing prices have fallen by a third and continue downward, according to the S&P/Case-Shiller indexes of home prices. A flood of foreclosures, while not quite as high as in 2010, will outdo last year's level and throw thousands more Americans out of their homes. Nevertheless, these negative trends are slowly clearing out the backlog of unsold homes that have hung over the real estate market like a dead weight. The most obvious area of recovery is existing homes.
---