Despite high fuel prices, many trucks run empty
A quarter of trucks on US and British roads carry no cargo, wasting billions of dollars in fuel. By harnessing the power of the Internet, truck fleets could become far more efficient.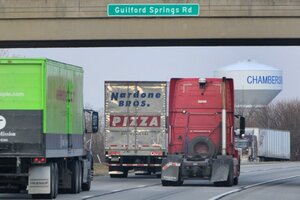 Markell DeLoatch/Public Opinion/AP/File
Every day thousands of trucks in Asia, Europe, and the Americas run empty, pushing up the world's fuel prices and degrading its air.
In Britain, a quarter of trucks on the roads carry no cargo and more than half transport only partial loads, according to the European Environment Agency. In the United States, 28 percent of truck trailers are running empty, according to the National Private Truck Council in Arlington, Va. If the rest of the world's trucking fleet operates equally inefficiently, then there's a lot of opportunity to create a much cleaner, more efficient trucking industry.
The benefits could be huge. Overall, the transport sector accounts for 60 percent of the world's oil consumption and a quarter of energy-related carbon dioxide emissions, according to the International Energy Agency (IEA).
Why do transport fleets run so inefficiently, especially in an era of high fuel prices? One reason is that many small haulage companies struggle to find the volume of work needed to conduct deliveries continually. For some, deliveries have decreased by 30 percent in the last year. Increased competition from rail and air-freight industries has added to the pressure, as have rising diesel prices. Some 16 percent of British haulers filed for bankruptcy last year.
There are solutions. Companies can make simple vehicle modifications, which can save dramatic amounts of fuel. Replacing regular tires with energy-saving ones and ensuring they are fully inflated could save fuel by up to 10 percent. Lighter, more aerodynamic trucks could also help to increase efficiency.
---