For bailout nations, new EU treaty is high price to pay
A new EU fiscal treaty could help keep national governments from overspending. But for EU nations already receiving bailouts, its conditions would be a big blow to their economies and national pride.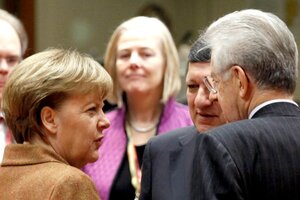 Sebastien Pirlet/Reuters
If you were a voter in a financially troubled democracy, imagine putting up with this:
Whenever a political impasse over a budget or some other fiscal crisis occurred – or even the whiff of one – outside monitors would swoop in to see how your government was handling it.
Annually, government officials would send foreign bureaucrats their budget plans for the coming year and give advance notice of imminent economic reforms and government bond sales.
The bureaucrats would have access to all government and banking data. They could order bank stress tests, require adjustments to government spending plans if revenues weren't keeping up, and as a last resort, suspend funds to the nation and even fine it if elected officials failed to rein in their budgets.
Such impositions on national sovereignty aren't international diktats for some impoverished nation. They're the rules in the new fiscal treaty that European leaders agreed to Friday in a bid to limit government overspending in the European Union. It's not clear how strictly the rules will be enforced for nations that have so far avoided a fiscal crisis. But for those ailing nations already receiving bailouts, it represents a high price to pay – both in economic and political terms – for the privilege of remaining in the eurozone.
"The Commission will have wider discretion to issue recommendations about national tax and spending policies, something it usually avoids for countries that are not in breach of existing deficit rules," reports the Financial Times.
---