Japan tsunami brought home hard lessons for automakers
On the first anniversary of the Japan tsunami, the auto industry is returning to normal after some significant disruptions. But the face of the industry has shifted.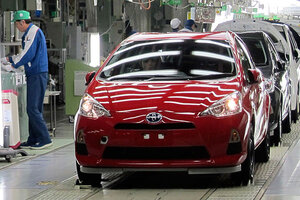 Chang-Ran Kim/REUTERS
If the US automotive industry has one takeaway from the tsunami in Japan last March, it's this: be prepared.
The disaster, and subsequent flooding in Thailand, dramatically affected the vehicle and supply chain in Asia – and not just for Japanese automakers. General Motors, Ford, and Chrysler also rely, although to a lesser extent, on certain supply components from Japan. The tsunami forced all three companies to establish contingency plans for where to get materials such as paint dye or computer chips for navigation systems if disaster strikes again.
"What [the tsunami] did was show the vulnerability in the supply chain. It became clear automakers had no idea how far down the supply chain some of these third level suppliers were. They now have a process in place to set up a war room to handle these situations," says Michele Krebs, a senior analyst with Edmunds.com.
Of course, the hardest hit were Japanese automakers, all of which suspended vehicle production for several weeks. Even though most auto assembly plants in Japan operate south of Tokyo – an area not affected by the tsunami – the majority of its assembly suppliers are located north of Tokyo, directly in the eye of the disaster.
---