Goldman Sachs executive resigns from 'toxic' bank
Goldman Sachs executive director offers his resignation in a scathing op-ed. He says Goldman Sachs' business culture is 'toxic and destructive.'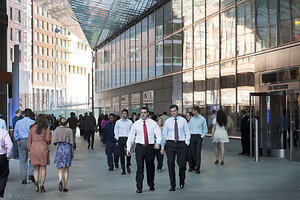 Mark Lennihan/AP
The very public resignation of Goldman Sachs executive Greg Smith is rekindling a three-year old debate over the business practices of big investment banks.
In an op-ed published Wednesday in The New York Times, the London-based banker slammed the organization's professional culture, calling it "as toxic and destructive as I have ever seen it."
After working for 12 years at the firm, Mr. Smith wrote that the enthusiasm he once had working for the organization had withered away and that he could not work any "longer in good conscience." He longs for the old days when teamwork, humility, and integrity were dominant among the firm's employees and charges top officials for the current moral erosion.
"The firm has veered so far from the place I joined right out of college that I can no longer in good conscience say that I identify with what it stands for," Smith wrote. "It makes me ill how callously people talk about ripping their clients off. Over the last 12 months I have seen five different managing directors refer to their own clients as 'muppets.' "
Goldman Sachs responded to Smith's accusations with a written statement.
"We disagree with the views expressed, which we don't think reflect the way we run our business," Goldman said. "In our view, we will only be successful if our clients are successful. This fundamental truth lies at the heart of how we conduct ourselves."
---