Corned beef and cabbage? No! Try St. Pat's doughnuts, shakes, 'n fries.
Irish restaurants may want to serve corned beef and cabbage. But America's fast-food chains are offering far more intriguing fare for St. Patrick's Day: from Dunkin' Donuts' 'Lucky Mint' dessert to Burger King's free fries with green ketchup.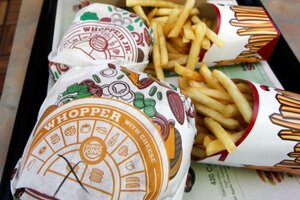 Paul Sakuma/AP/File
St. Patrick's Day may nominally be about St. Patrick, the patron saint of Ireland who banished all of the snakes from the Emerald Isle, but really, it's all about food and fun, and Irish culture.
Corned beef and cabbage? Fuhgitaboutit. To keep you nourished through all of the parades, clogging, and general revelry, here's a handy guide to the St. Patty's Day promotions going on at fast-food chains around the country.
We'll take you through it, meal by meal. Because if there's one thing that's more fun than wearing green, it's eating green food that isn't a vegetable.
Breakfast
Massachusetts is the most Irish state in the United States by population percentage, so why not start your St. Patrick's Day in a Boston-based institution? Dunkin' Donuts is celebrating the Irish with two limited edition doughnuts. There's the "Lucky Mint" – a glazed chocolate cake doughnut with chocolate icing and green mint chocolate bark shavings sprinkled on top. If you aren't in the mood for chocolate, you can opt for the Green Shamrock Donut – a plain doughnut topped with Kelly green frosting and green and white sprinkles. The pastries are available through the end of March. Prices vary, but plan to pay about 89 cents per doughnut.
Lunch
In case you get to lunchtime thinking you haven't seen quite enough green this St. Patrick's Day, Burger King has you covered. The burger chain is giving away a free serving of fries to every customer that walks in on March 17 and 18, and they come with bright green Heinz St. Paddy's sauce for dipping (green ketchup, more or less).
After your Burger King meal (eat something besides the free fries, please), you can stop by competitor McDonald's for the king of St. Patrick's Day promotional treats: The Shamrock Shake. Like the elusive McRib sandwich, the scarce availability of the bright green milkshake has generated somewhat of a cult following. It appears only occasionally, at select McDonald's locations on or around St. Patrick's Day.
---