Is $3 a gallon a historical relic? What could bring gas prices back to earth.
A return to the $3-a-gallon gas prices of yore is possible, but it will require a number of factors. Among developments experts say could help: improved fuel-efficiency and a calmer Middle East.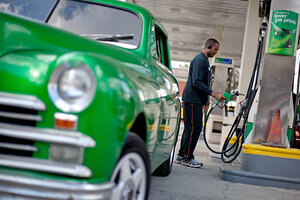 David Goldman/AP
The last time the price of gasoline was below $3 a gallon was just before Christmas in 2010.
What would it take to get the price at the pump down from its current level of $3.83 a gallon to what it cost fifteen months ago?
The short answer is that gas prices that low might be possible if several factors came together, such as Americans switching to more fuel-efficient vehicles, a slowing of the economy, or resolution of the crisis over Iran's nuclear program.
Avery Ash, director of government affairs for AAA and an expert on the gasoline market, estimates fear of a conflict in the Middle East adds as much 60 cents a gallon to the price at the pump in those areas that are supplied by crude priced on the global market.
"Resolve that issue – and remove the current risk premium in the market – and you have a scenario where there could be significant downward pressure on global prices," says Mr. Ash.
Reducing or at least slowing the increase in the price of gasoline has suddenly taken on a larger importance, both politically and economically.
On Thursday, President Obama tried to address the issue in part by disagreeing with Republicans who are attacking him for not allowing enough drilling for new oil supplies. Obama said drilling is at record levels. But the president noted that US oil reserves are limited compared to US consumption.
"There's no such thing as a quick fix when it comes to high gas prices," Obama said in a speech at Prince George's County Community College in Largo, Md. "We know there's no silver bullet."
---