Iranian oil sanctions: US exempts 11 nations
The American government will exempt 10 European countries plus Japan from financial sanctions due to their efforts to reduce their dependence on Iranian oil.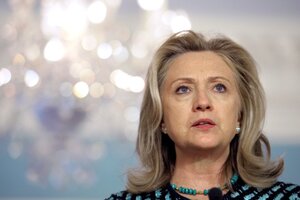 Cliff Owen/AP
The Obama administration will exempt a group of European countries and Japan from sanctions, because they have significantly curtailed their oil imports from Iran. Remaining on the list are India and China, Tehran's top two petroleum importers.
That leaves Indian and Chinese banks vulnerable to being cut off from doing business with the United States.
Under a US law enacted last year, countries have until June 28 to reduce the volume of their crude oil imports from Iran or risk sanctions. The law enjoyed strong congressional support when it was signed, however, it offers the administration some wiggle room to protect American allies. Sanctions are imposed only when the American president believes nations are not doing enough to reduce their dependency on Iranian-produced petroleum when alternative sources are present.
Secretary of State Hillary Clinton, who announced the list with the exemptions Tuesday, praised the 10 European countries plus Japan for the decision to proceed with the cuts at a time when their economies are struggling and harsh austerity measures are being imposed on some members of the European Union.
"The actions taken by these countries were not easy," Ms. Clinton said. "We commend these countries for their actions and urge other nations that import oil from Iran to follow their example."
---