It's not just Instagram. The 'app economy' is taking off.
Facebook's $1 billion purchase of smartphone app Instagram is just the tip of the iceberg. Apps represent a $20 billion industry employing nearly 500,000 people.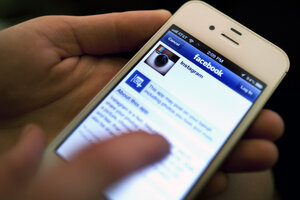 Karly Domb Sadof/AP
Three years ago, frustrated in his search for a summer job, Valparaiso University senior Cameron Banga decided to try less traditional work: writing apps.
It was a crazy idea. Apple's iPhone was only two years old, and its app store – where Mr. Banga hoped to sell his programs – had opened just the previous summer. Nevertheless, with two college buddies and more confidence than experience, Banga watched a brief computer science class posted online and got down to writing what he hoped would be one really good piece of software.
The result? A battery-monitoring application for the iPhone called Battery Go! Within 36 hours of its release, the free software had rocketed to No. 70 on the Top 100 iPhone apps list. "It was this kind of modern-day gold rush," Banga recalls. "We were really fortunate. We had the right idea at the right time."
Banga and his two partners are members of the new "app economy," a burgeoning industry of mini-software at micro prices. Nevertheless, the sector has spawned nearly $20 billion in sales and 466,000 jobs, according to one recent study, and it shows no signs of slowing down. In a national economy stuck in low gear, the app economy is providing some pop to America's jobs engine that could, in a few years, make a measurable difference.
"Whenever you create a new medium of communication, a new consumer medium of communication, you inevitably have revolutionary changes," says Paul Saffo, managing director at Discern, an investment analytics firm based in San Francisco. "Anything this size is, of course, going to have a multiplier effect across industries."
---