Hungry? Pizza Hut launches cheeseburger crust pizza. (+video)
Pizza Hut has released a pizza lined with tiny cheeseburgers in the Middle East, just weeks after releasing the "Hot Dog Stuffed Crust Pizza" in the UK. When will Pizza Hut bring a wild pizza crust to the United States?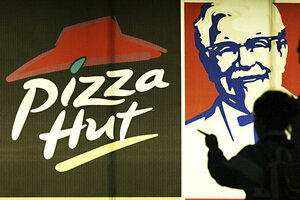 Joe Tan/Reuters/File
Hot on the heels of the much-discussed "Hot Dog Stuffed Crust" pizza from a few weeks ago, Pizza Hut has once again proven itself the leader in the world of pizza crust innovation.
The "Crown Crust Burger Pizza," in fact, makes the United Kingdom's "Hot Dog Stuffed Crust Pizza" look tame by comparison. The crust on this self-described masterpiece is made up of tiny cheeseburger patties encased in nests of pizza crust (Pizza Hut calls these "mini cheeseburger gems"). The cheese pizza center comes topped with beef, iceberg lettuce, tomato, melted cheese, and "Pizza Hut's special sauce, inviting comparisons to yet another junk food staple: the taco salad.
The "Crown Crust Burger Pizza" also has a sister entrée, the "Crown Crust Chicken Fillet Pizza," It comes bordered by, you guessed it, tiny chicken "gems."
"Relish a first of its kind deliciousness," a Middle Eastern television ad for the Crown Crust Burger boasts.
The new pizzas are available in 12 countries across the Middle East, including Jordan, Lebanon, Pakistan, and Egypt. Coupled with the hot dog crust pizza and Japan's "Winter Double King" pizza (that crust is stuffed with shrimp and mayonnaise), the Crown Crust Burger Pizza is just the latest slight to adventurous stateside pizza lovers. Does Pizza Hut think we're not ready to venture too far outside the box (or the crust) when it comes to our pizzas?
---