Oil prices drive Delta Air Lines to buy its own refinery. Will that work?
Delta Air Lines wants to better control the cost of refining oil for jet fuel. The cost savings won't be enormous, but in such a competitive industry, every little bit helps.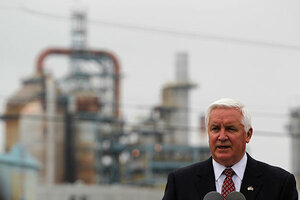 Matt Rourke/AP
In an age of volatile and sky-high oil prices, Delta Air Lines is trying to cut its costs in a novel way – by purchasing its own refinery.
A Delta subsidiary this week announced plans to buy the Trainer refinery complex near Philadelphia, saying it could reduce the airline's annual fuel bill by $300 million.
That's a sizable chunk of change. Of course, owning the refinery doesn't insulate the airline from the impact of changes in the price of crude oil, which has risen over the past year due to factors ranging from the geopolitics of Iran to signs of reviving demand.
But Delta chief executive Richard Anderson says the move will help the firm control fluctuations that can occur in the so-called "crack spread" – the gap between the price of crude oil and the cost of refined products such as jet fuel.
"What we're tackling here today is the jet crack spread, which you cannot hedge in the marketplace effectively," Mr. Anderson told reporters Monday, according to the Associated Press. He called it Delta's fastest growing cost.
Some energy analysts say it may take a while before it's clear whether Delta's strategy will reap the intended benefits. The refining business can see sharp swings in costs and revenues, and the Trainer refinery complex requires substantial new investment by Delta.
---