Bike to Work Day: Ditch the car. Pedal. Save $9,000?
Bike to Work Day is a chance for dedicated cyclists to show commuters that there's a better, cheaper way to get to work. Bike to work could save up to $9,000 a year, if you can ditch a car in the process.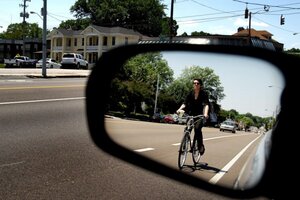 Mike Brown/The Commercial Appeal/AP
Fed up with $4 a gallon gas and a morning commute? Bike advocacy groups have declared Friday, May 18, as national Bike to Work Day to encourage commuters to pedal their way to work instead.
For most people, health and fitness are the main reasons to start biking to work. But since 2008, the economic benefits of ditching four wheels for two are climbing on people's list of priorities. The savings can add up.
"When you pay $70, $80 to fill up your car, you start to think maybe it is possible to bike to work," says Andy Clarke, president of the League of American Bicyclists, a Washington advocacy group and national sponsor of Bike to Work Day. "We want to give people the opportunity to try biking and see if it works for them."
For Bike to Work Day, bike groups across the country are sponsoring group rides and offering buddy services to pair new riders with experienced commuters. They hope the day shows people it's easier than they think to bike to work. The incentives, they say, are better health and fitness, a more ecofriendly commuter footprint, and cost savings.
Just how much can you expect to save if you commit to biking?
You'll save the most money if your bike can replace a car, cyclists say. Mr. Clarke, who bikes 12 miles each day to and from his office in Washington, estimates that his family saves $3,000 to $5,000 a year by not needing a second car.
AAA says the savings can be even higher. In April, the automobile club released a survey that found that the average cost of owning and operating a mid-sized sedan in the United States is $8,946 per year, based on national averages for gas, insurance, maintenance, tires, taxes, and car loans.
"There are significant savings if as a family you eliminate a second car. Then you really do save that $9,000," says Stephanie Frans, commute programs manager at Cascade Bicycle Club, a nonprofit education and advocacy group in Seattle.
---