Big-screen blockbuster: Chinese conglomerate gobbles up AMC chain
In what some are calling a $2.6 billion prestige play, China's big fish Wanda is swallowing AMC to create the world's largest theater chain despite the steady decline in the US industry.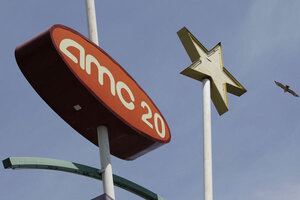 Paul Sakuma/AP
In the largest single Chinese investment in a US business to date, a Chinese real estate and entertainment conglomerate called Dalian Wanda Group has just purchased AMC, the second-largest US movie theater chain with more than 5,000 screens in the US and Canada.
The $2.6 billion purchase, which makes Wanda the world's largest theater chain owner with nearly 5,800 screens and more cinema-chain purchases under consideration, has many wondering it will mean for moviegoers.
"It offers a lot of possibilities," says Paul Dergarabedian, box office analyst for Hollywood.com, of the acquisition of Kansas City-based AMC, which was a year in the making.
"This transaction will help make Wanda a truly global cinema owner, with theaters and technology that enhance the movie-going experience for audiences in the world's two largest markets," said Wang Jianlin, Wanda's chairman and president, in the Los Angeles Times.
"They intend to put a lot of money into expansion and improvements," says Dergarabedian, some $500 million according to the company's statements.
The purchase, he says, shows a lot of confidence in the theatrical sector: "You don't put that kind of money into something that is not relevant."
This commitment could show up in such items as more reserved seating and higher-quality or more varied concession items. "Maybe even some different kinds of food," adds Dergarabedian with a laugh, "although I'm sure they will always sell popcorn, who knows if some of their own treats might be a big seller."
---