Memorial Day: good news on gasoline prices, and it may get better
Memorial Day weekend, the start of the summer driving season, will see gasoline prices at their lowest in two years. Concerns about Europe and optimism about Iran have helped cut the cost of crude.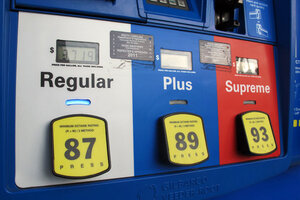 AP/File
This Memorial Day weekend, motorists will find gasoline plentiful and at the lowest price it's been for two years.
Good news. And it may get better.
With the price of crude oil hovering around $90 a barrel on Tuesday – down $1.78 a barrel and the lowest it's been in more than half a year – some energy analysts believe it looks as if the price for the rest of the summer could be coming down even more.
And all this just two months after dire predictions of record-high summer gasoline prices.
This weekend, prices at the pump on a national basis should average about $3.66 a gallon, predicts AAA, the national motorists club. This is down 26 cents a gallon from the peak of $3.94 a gallon set in early April.
However, gas prices could be as low as $3.33 a gallon in South Carolina and as high as $4.32 a gallon in California. West Coast prices have remained high in part because of some refinery issues, say energy experts.
"For the start of the summer driving season motorists will see prices cheaper than they were a year ago, which is welcome relief for the 34.8 million Americans that AAA predicts will travel this Memorial Day weekend," says Avery Ash, manager of regulatory affairs for AAA in Washington. "Heading into the summer, our expectation, based on current market conditions, is that there is room for prices to continue to move downward."
Energy analysts say that falling prices at the start of the summer driving season is a positive sign for consumers' pocketbooks. Gasoline is a staple that most Americans purchase – the average household will spend about $3,000 this year at current prices – so any reduction in price gives them additional money to spend on discretionary items. The price reduction also helps consumers psychologically: as the price approached $4 a gallon on a national basis they felt increasingly squeezed.
---