Retirement: 3 ways to enrich it without adding money
Retirement planning is about more than saving money. It's about what you're going to do. Here are three ways to stay active in retirement.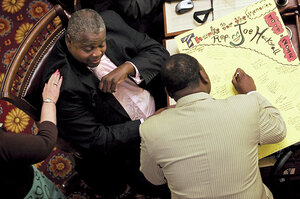 David Goldman/AP/File
In 2009, Rusty Arnesen was forced into retirement. He hadn't planned to leave his job as chief deputy public defender for San Diego County in California quite so soon. He was shocked.
"I'd had a very busy job overseeing 100 lawyers and working at least 50 hours a week," says Mr. Arnesen, who now golfs, does some pro bono legal work, and has several high-level volunteer jobs. "Now, I'm looking for more things to volunteer for. I hadn't figured what it would be like" in retirement.
Neither do many Americans. For all the emphasis put on saving for retirement, planning for what to do in retirement is often lacking. While that may not pose an immediate problem – new data from the MetLife Mature Market Institute show 70 percent of 65-year-old retirees thoroughly enjoy retirement – it's not clear that enjoyment endures. That's why many experts suggest embracing some second act during this period that can last 30 years or more.
"There's the honeymoon period for the first six months. Then restlessness sets in, and you wonder what to do with the rest of your life," says Todd Tresidder, founder of FinancialMentor.com in Reno, Nev. "That's where [today's] whole new retirement comes in."
---