Miami Dolphins on 'Hard Knocks' is shrewd business
Miami Dolphins training camp will be featured in the documentary series 'Hard Knocks' for its upcoming season. While some teams declined offers to appear on the HBO show, 'Hard Knocks' is a good fit for for a Miami Dolphins team struggling with falling ticket sales and a decade of football irrelevance.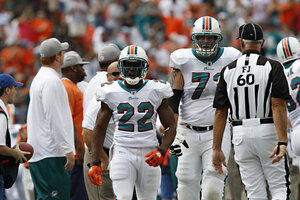 Hans Deryk/AP/File
The HBO documentary series "Hard Knocks," which follows one NFL team through preseason training camp, has chronicled defending Super Bowl champs, colorful coaches, and rookies battling for a shot in the NFL. This season, the show will be following the Miami Dolphins, rookie Dolphins coach Joe Philbin announced in a press conference Tuesday. Co-produced by NFL Films, the seventh season of "Hard Knocks" will debut Aug. 7, running five episodes.
Getting the right team for "Hard Knocks" can be a tricky business. Popular, successful teams like the Green Bay Packers or defending Super Bowl champ New York Giants have huge fan bases, storied histories, strong brand recognition, and a large potential viewership – "Hard Knocks," would love to have them (the series debut in 2002 followed the Baltimore Ravens, fresh off their own Super Bowl title). But those teams have little impetus to allow HBO and NFL Films into their facilities, where team dynamics and interpersonal dramas will be aired for public consumption. The series is renowned for its intimate access to players and personnel, which can be a mixed blessing for featured teams. By contrast, mediocre teams with small fan followings, like the Jacksonville Jaguars or the Cincinnati Bengals, won't have viewers flocking to HBO.
---