Cars Land: New park hopes to boost Walt Disney Co.'s fortunes
Cars Land, the newest addition to Disneyland's California Adventure Park, opened last week. Disney hopes Cars Land, inspired by the popular 'Cars' film franchise, will draw customers to the under-performing theme park.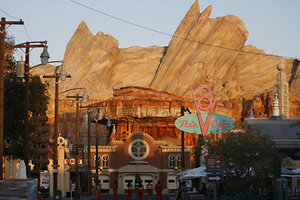 David McNew/Reuters/File
The newest addition to Disneyland's California Adventure Park opened last week to great fanfare—and high expectations. Cars Land, a theme park based around the popular animated "Cars" movies, is being touted by Disney as a way to reverse the downward trend in its theme park revenues. It is the first new "land" to open at Disney's twin Anaheim parks in ten years. California Adventure Park, where Cars Land will call home, opened its gates in 2001.
The June 15th opening day was well attended. Media reports described hundreds of fans, many of them die-hard "Cars" groupies, camped outside the gates overnight for a chance to be part of the opening surge. Thousands more joined them by mid-morning, exploring a "Main Street" boulevard designed to mimic the movie's nostalgic Route 66.
But park enthusiasts were not the only ones watching the unveiling with interest. The wizards of Wall Street were also paying close attention, with analysts across the industry weighing in on one of Walt Disney Co.'s biggest recent gambles. And there's an added layer of intrigue in the Disney boardroom: Tom Staggs, the company's theme park czar, is currently one of the leading candidates to succeed Bob Iger as CEO.
Cars Land is only part of a $1.1 billion, four-year overhaul by the entertainment behemoth, specifically designed to boost attendance at the amusement complex. Disney management has been forthright about their own hopes for the additions, as well as their disappointment in California Adventure's perceived under-performance over the past decade.
---