Bumbo baby seats: unsafe at any height
The US has long warned parents not to use Bumbo baby seats on tables. Now, all 4 million Bumbo baby seats are being recalled after reports that they can cause hazardous falls on the floor, too.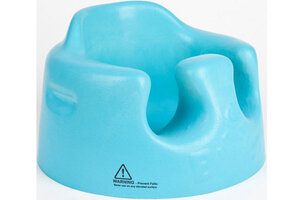 Consumer Product Safety Commission/Reuters
If you own a Bumbo Baby Seat, those iconic round seats with horseshoe-shaped leg openings, the company has a message for you: Stop using them. They're potentially dangerous.
On Wednesday, Bumbo International issued a recall for all its baby seats sold in the United States, 4 million units in all. That's one of the larger recalls of children's products and represents the second time that the company and federal regulators have tried to fix a recurring problem: Babies can wiggle out of the seats, fall, and injure themselves, even when the seats are used on the floor, as recommended.
Owners of the seats should contact the company for a free repair kit, which includes a seatbelt and anchors to attach the belt to the seat. Consumers can call the company toll-free (866-898-4999) or visit a special recall website where owners can order the repair kit.
Expect the kit to arrive in two to three weeks. There's a video showing how to install the safety belt. Until the fix is made, parents should not use the baby seat, the company warns.
The Consumer Product Safety Commission (CPSC) has been warning parents for years not to place the Bumbo seat on tables, counters, or other raised surfaces. In 2007, the company issued a recall for the seats to add new labels warning against using them on raised surfaces. At the time, the CPSC had 28 reports of young children falling out of the seats, including three skull fractures.
But even after the warnings, the agency and South Africa-based Bumbo kept getting complaints – at least 50 of them, 19 of which resulted in reports of skull fractures. The continued accidents suggested that parents weren't heeding the warning labels.
---