As Patriots (and pro sports) go solar, will fans follow?
The New England Patriots are just the latest to turn to solar energy to power their vast complexes. From Boston to Los Angeles, teams are taking advantage of the falling price of solar panels. But for their fans, it's a bigger financial leap.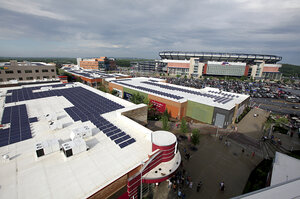 Constellation Energy
When New England Patriots fans return to Gillette Stadium in Foxboro, Mass., for Monday's preseason game, dreaming no doubt about another shot at the Super Bowl, they'll be greeted by nearly 2,600 rooftop panels pointed at the sun. The Patriots, known for their smart tactics on the field, are switching to solar power for their off-field shopping and dining complex next door to the stadium.
What's going on? Is pro football going "green"? Are premier smash-mouth athletes really tree-huggers with shoulder pads?
The Patriots are just the latest in a growing number of professional sports teams going solar. From the Cardinals baseball stadium in St. Louis to the Los Angeles complex housing that city's basketball and hockey teams, franchises are using their big flat-roofed buildings and vast parking lots to cut their power bill. The bigger question is: Will their fans follow suit?
So far, residential solar installations lag far behind commercial ones. For example: 60 percent of the energy used by the Patriots' complex, known as Patriot Place, will come from the sun; the number is less than 0.1 percent for the average resident of Greater Boston. Economics and logistics explain part of the growing disparity. It's easier and cheaper to install panels on flat roofs and acres of parking space than on the average American home. But it also has to do with perception.
---