Hot Toy Reservations: Toys R Us starts holiday shopping early
Hot Toy Reservations from Toys R Us lets parents reserve holiday toys before Halloween. The hot toy reservations system is a great way for Toys R Us to generate early holiday shopping buzz and maximize profits. But is it good for customers?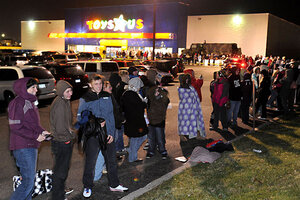 Christopher Millette/Eerie Times-News/AP/File
Kids just went back to school, Halloween is a good six weeks away, and the last thing most of us are thinking about about right now is Christmas shopping.
But Toys R Us thinks you should consider it. The Wayne, N.J., based retailer unveiled its plans for the holidays in a press conference Wednesday, a full 10 days before the official start of fall. Among the offerings announced: free layaway, expanded product lines, and a "Hot Toy Reservation program," for the ultimate plan-ahead parent.
The Hot Toy Reservation program is "a complimentary service that will enable customers to reserve the hottest toys of the holiday season, putting an end to frantic searching in the days leading up to Christmas," according to the press release from Toys R Us. "The service will be available for the 50 items on the company's Holiday Hot Toy list. Hot Toy Reservation will begin when the list is revealed (last year it was released in mid-October) and will continue through Halloween.
By utilizing the service, shoppers can rest assured that their 'must have' toy will be under the tree on Christmas morning."
So here's how it works: Once Toy R Us reveals its Hot Toy List, shoppers have until Oct. 31 to go to a location in person – to deter scammers – and, along with a 20 percent down payment, reserve any potentially coveted toy early, to be picked up during the holiday season in late November and December. If you can remember that you did it, that is.
The Toys R Us announcement begs the question: Is this a smart move? Do shoppers care about Christmas yet? Is this all getting out of control?
---