Gas prices dip, but are still pretty high. Should Obama be worried?
Suburban commuters are considered an important constituency this election year, analysts say, and high gas prices are on their list of complaints. Belatedly, they could be beginning to fall.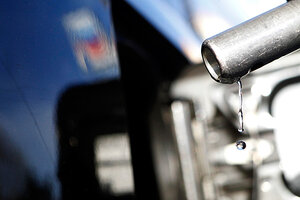 Mario Anzuoni/Reuters
There is probably no one watching the gasoline price trends more closely than the Obama campaign.
That's because when it comes to everyone's personal economic indicator, there is nothing quite like the price at the pump.
Almost everyone knows what they paid for their last fill-up, and consumers have a rough idea of what fuel should cost at any given time of year.
What's more, high fuel prices often result in more than grumbling: consumers cut down on discretionary items such as ice cream or trips to visit friends.
The bad news for President Obama is that suburban commuters, who are especially sensitive to higher gas prices, are part of what analysts say is an important constituency this election year. The good news is that on Monday, prices at the pump were a nickel a gallon less than they were last week, according to the AAA automobile club.
Nevertheless, at $3.81 a gallon gas is still relatively expensive for this time of year. And prices are fairly close to where they were in 2008 when they hit as high as $3.86 a gallon on Sept. 17 of that election year.
"Consumers are not used to seeing gasoline prices this high, this time of year," says Patrick DeHaan, a Chicago-based senior petroleum analyst at GasBuddy.com, an on-line source of gas prices. "If you're not feeling good at the pump, you're not feeling good in your wallet."
High gasoline prices are especially noticeable in some key swing states: Michigan ($3.90 a gallon), Wisconsin ($3.90), Pa. ($3.90) and Iowa ($3.82). "There have been pipeline outages, refinery blips – it's been a hard year for motorists in the Midwest," says Mr. DeHaan.
---