Rent or own? The new sharing economy values access over ownership
To rent or own, that is the question posed by the burgeoning sharing economy. For a growing population engaged in this high-tech, low-cost 'collaborative economy,' access to cars, clothes, cuisine – or even a cat – is better than ownership.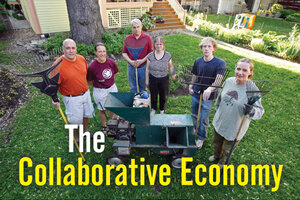 AP
Lisa Gansky likes to share, and usually with strangers. A typical day for her looks something like this:
•She leaves her house in Napa, Calif., at 7:30 a.m. and drives to the ferry, parks her Mini Cooper, and takes the 60-minute ride across the bay to San Francisco.
•If it's raining, she'll pull up the RelayRides application on her iPhone and see if someone nearby has a car she can rent to get around that day, usually for less than $10 an hour. If there's nothing available, she'll open the mobile app for Uber and book a ride with a nearby town car sitting idle, waiting for a customer.
•Fifteen minutes later she's at her office, a co-working – or shared – space known as the Hatchery, which is open to those in the social innovation industry. There, Ms. Gansky manages Mesh Labs, an incubator she founded focused on "sharing economy" companies and Meshing.it, a global share-economy business community and directory.
•At the Hatchery she pays about $100 a month for access to a desk, quiet spaces, meeting rooms, drinks, and Wi-Fi. There, she meets with her team – two full-timers and colleagues that include investors, new start-up founders, and friends – but also with others who share the same space. Those working there also share knowledge, feedback, connections, and problem-solving ideas.
---