Kellogg Company recalls Mini-Wheats. Metal fragments in cereal.
Kellogg Company has issued a recall of 2.8 million packages of unfrosted and Frosted Mini-Wheats cereal due to possible contamination with fragments of metal mesh. The Kellog Company says that the affected batches of Mini-Wheats range in size and were distributed nationwide.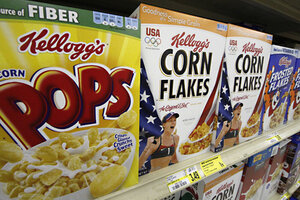 Gene J. Puskar/AP/File
Part of your complete breakfast may have shards of metal in it.
The Kellogg Company has issued a recall of 2.8 million boxes of its popular Bite Size Frosted and Unfrosted Mini-Wheats cereal due to a manufacturing glitch that left packages contaminated with metal mesh.
"We have initiated a voluntary recall due to the possible presence of fragments of flexible metal mesh from a faulty manufacturing part," the Battle Creek, Mich.-based food company said in a statement released through the Food and Drug Administration Wednesday. "Recalled products include only Frosted Mini-Wheats Bite Size Original and Mini-Wheats Unfrosted Bite Size with the letters KB, AP or FK before or after the Best If Used Before date."
Recalled packages include both frosted and unfrosted bite-sized Mini-Wheats varieties range in size from single-serve bowls to 70-ounce cartons (the size available at wholesale clubs like Sam's Club or Costco). The affected boxes have a "used by" dates between April 1, 2013 and Sept. 21, 2013.
The affected cereal was distributed nationwide, Kellogg Company Spokesperson Kris Charles wrote via email. So far, no resulting injuries have been reported.
---