Will US economy rebound in 2013? Forecasters say not much.
An improved housing market and better auto sales are expected to boost US economic growth in 2013, but slowing economies in China and Europe will be a net drag. Meanwhile, Congress will 'kick the can down the road' on extending Bush tax cuts, economic forecasters predict.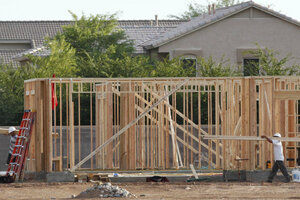 Matt York/AP/File
No matter who gets elected president next month, the United States economy in 2013 will have only tepid growth.
Does that sound like this year all over again? Yes, indeed.
At least that's the view of 44 professional economic forecasters, members of the National Association of Business Economics, who on Monday released their outlook for the coming year.
The economists have pretty much discounted all the political rhetoric about what will happen to the economy if the "Bush-era tax cuts" are not renewed. According to the Congressional Budget Office, if Congress and the White House can't reach a compromise on the budget and taxes, the economy will go over the "fiscal cliff" into a recession. But that's not what is likely to happen, say the forecasters.
"The lame duck Congress will kick the can down the road," says Patrick Newport, an economist at IHS Global Insight in Lexington, Mass., and a survey participant. "It's what they have done in the past."
He reasons that no one will want to be blamed for pushing the economy into a recession. "The smartest thing is to let the next Congress and administration take care of the problems," says Mr. Newport.
Instead, the economists in the survey say the dominant force behind the US economy will be the slowing economies in China and Europe.
---