More Americans tap retirement funds. Is that OK?
More than 20 percent of Americans have borrowed against their 401(k), the highest share since 1996. Nearly half of young people with 401(k)s at previous employers cash them out rather than roll them over. Tapping retirement funds is rarely a good idea.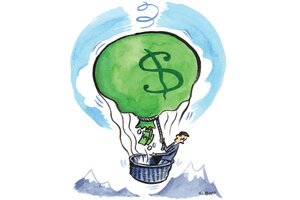 Michael Sloan/The Christian Science Monitor
Tapping a 401(k) retirement account has proved to be quite fruitful for the Davis family of Marietta, Ga. Three years ago – once she could do so without a penalty – Donna Davis started taking withdrawals from her 401(k) and rolling them into a self-directed Individual Retirement Account (IRA). With the funds, the Davises bought houses for rental income.
"We're now getting a much higher return with this money than we did when it was in the 401(k)," says her husband, Jay.
That's one of the very few times that dipping early into retirement funds might be advisable. Unfortunately, amid high unemployment and tighter restrictions on borrowing, rising numbers of pre-retirees are drawing down their retirement savings and borrowing against their future. Often, they have no choice.
People "want to find ways to meet their financial obligations now," says Stanley Molotsky, a financial planner in Collingswood, N.J., who hosts a radio call-in show on personal finance. He says he has fielded "far more calls than ever before from people asking about tapping IRAs or 401(k)s."
Consider the trends: At the end of 2010, 21 percent of people with a 401(k) that allowed loans had borrowed from it, according to the latest figures of the Employee Benefit Research Institute (EBRI) in Washington, D.C. That's up from 18 percent in 2008 and the highest percentage since 1996.
That one-fifth "is very worrisome," says Jeff Vollmer, a financial adviser at Hyde Park Wealth Management in Cincinnati. "That's a large head count of those who are degrading the long-term savings potential of a tax-deferred retirement program."
The average loan size is about 14 percent of the remaining account balance, EBRI data show.
Hardship withdrawals from 401(k)s are far less common than loans. However, 4 in 10 employees who leave their company cash out their 401(k)s rather than roll them into another retirement plan or let the funds sit until they retire, according to a 2012 Aon Hewitt study. The worst offenders? Young workers in their 20s, with just under half taking the money, despite the associated penalties.
---