Hyundai, Kia overstated mileage, EPA finds. What it means for consumers
Korean auto manufacturers Hyundai and Kia are being forced to reduce the fuel economy estimates on their cars. They will also compensate owners of at least 900,000 2011-13 model-year vehicles.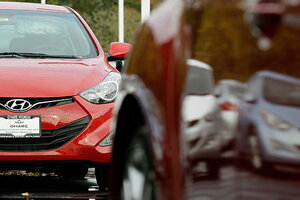 Nam Y. Huh/AP/File
Hyundai Motors America and Kia Motors America are being forced to lower the fuel economy estimates on the majority of their 2012-13 models after an investigation by the Environmental Protection Agency found that the companies overstated the fuel efficiency numbers for their vehicles in previous years.
Automotive industry analysts are calling the scale of the corrective move unprecedented.
Discovery of the exaggerated claims is also requiring that the companies, subsidiaries of the same Korean corporate parent, compensate the owners of least 900,000 2011-to-2013 model-year vehicles sold through Wednesday. According to one preliminary estimate, the reimbursement program is expected to cost the two companies tens of millions of dollars.
On average, the companies misstated the fuel economy of their new vehicle fleets by 3 percent. The mileage for most vehicles will be reduced by up to two miles per gallon, although the largest reduction will be six highway miles per gallon for the Kia Soul.
While m.p.g. discrepancies have been discovered in the past, the EPA says, "this is the first time where a large number of vehicles from the same manufacturer have deviated so significantly."
"Consumers rely on the window sticker to help make informed choices about the cars they buy," Gina McCarthy, assistant administrator for the EPA's Office of Air and Radiation, said in a statement. "EPA's investigation will help protect consumers and ensure a level playing field among automakers."
---