Amazon: great Black Friday deals, but what about sales tax?
Eight states now charge sales taxes on online transactions, including Amazon's. But the taxes won't slow down Amazon's ability to match prices of competitors.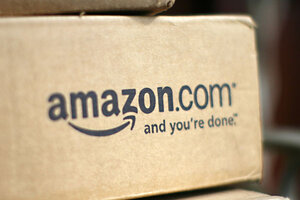 Rick Wilking/Reuters/File
Online retail king Amazon is ramping up for Black Friday, with sales leading up to their "week of Black Friday sales" (which lead up to the big day itself).
Overkill? Maybe. But Amazon's versatility as an online merchant makes it easy for the retailer to trot out Black Friday prices whenever it wants – a luxury that has allowed it to increasingly dominate the holiday shopping market over the years.
And that dominance is likely to continue. Shoppers spent $37 billion online last year, spiking 15 percent from 2010, according to comscore.com.
But Amazon's renowned ability to offer the lowest prices faces a new wrinkle: new sales tax rules regulating online merchants. Right now, Amazon has to collect sales tax in eight states, including large markets like New York and California. Will this affect the company's ability to match prices and compete with Walmart, Target, and Toys R Us?
Not really. "Amazon is just passing the sales tax on to the consumer, it's not like they're eating that 5-10 percent," Michael Brim, founder and CEO of the Black Friday deals watch site BFAds.net, writes via e-mail. "This won't affect their ability to price-match."
What's more, he adds, most Amazon customers have always had to pay a "use tax," which is levied in most states on material purchases that are otherwise tax-free. Switching that out with a sales tax won't change much. Couple that with Amazon's super competitive shipping rates (orders above $25 are free, and Amazon Prime subscribers get free shipping on all orders) and the online giant remains tough to beat during the holidays.
---