Black Friday: Will the 'fiscal cliff' darken the mood in the malls?
Economists view Black Friday as a litmus test for consumer confidence, which is showing signs of weakening. Whether Washington can come to terms to avert the fiscal cliff – and tax hikes – is a wild card.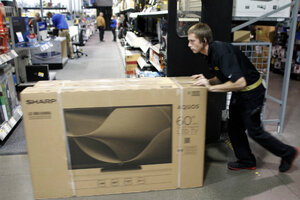 Rob Kerr/The Bulletin/AP
Now that the election is settled, consumers can get back to what they normally do tomorrow on Black Friday: look for bargains. Right?
Well, maybe not. Now, they may have a whole new worry: Washington's failure to reach a deal on taxes and the budget might send the economy into a tailspin, termed the fiscal cliff.
Some consumer experts worry that unless Congress and the president can reach a deal, consumers will begin to hunker down. In anticipation of higher taxes next year, they will put their credit cards back in their wallets, turning their backs on discounted iPads and door-busting prices for cameras. Surveys of consumer sentiment already show some weakening.
"Consumer sentiment has slipped especially in terms of where people think we are heading in the future and their own finances," says Chris Christopher, senior principal economist at IHS Global Insight in Lexington, Mass.
He worries that the current conciliatory tone in Washington might deteriorate if there is no movement. Then, fingers will get pointed and the financial markets will react badly. "If the political actors don't rise above the fray, consumer confidence will just plummet," says Mr. Christopher.
However, not everyone thinks the angst over the fiscal cliff will keep consumers from waiting out in the cold at midnight for stores to open so they can buy discounted electronics and toys.
---