Black Friday: gridlock at the malls brightens prospects for retailers
Perfect weather and heavily promoted specials help give a big launch to a holiday season essential to retailers at a time when consumer confidence has been slipping.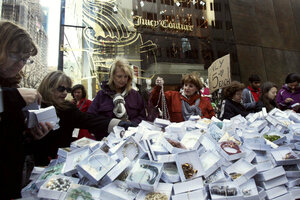 Richard Drew/AP
On Fifth Avenue, large crowds of people jammed Lord & Taylor, H&M, the discount clothing store, and Steve Madden, the shoe emporium. But Best Buy – even at 3 p.m. – was in total gridlock.
Upstate, in Saratoga Springs, so many people were in G. Willikers Toys that the owner had a hint of panic in her voice on the phone. "You can hardly move around here," said Linda Ambrosino on Friday afternoon. "Please call me back in 30 minutes."
And, on Thursday night, the parking lot at the Cincinnati Premium Outlets was full at 10 p.m., all the off-site parking was taken by midnight, and at 1 a.m. there was a 90-minute wait to exit the expressway to get to the stores.
"There seemed to be a lot of young people taking advantage of the door busters and specials," says Les Morris, a spokesman for Simon Malls, the owner of the Cincinnati property.
Yes, on the basis of anecdotal evidence, Black Friday 2012 appears to have gotten off to a decent – maybe even ripsnorting – start.
A good portion of the shopper mania appears to be related to the heavily promoted specials such as discounted iPads and tablets. It did not hurt that the weather was perfect for shopping around much of the nation without any major snow storms or downpours. And, retail experts think there could have been some pent-up post-election demand.
---