Home prices on the rise: why that is good for US economy
Nationwide, home prices rose 3.6 percent in the third quarter compared with the same period in 2011, new data show. The jump points to a broad recovery in the long-sluggish housing market.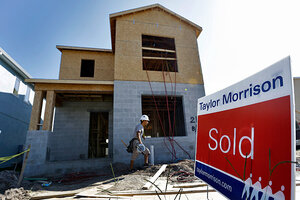 Chris O'Meara/AP/File
Home prices in the United States rose in September, confirming that low interest rates and declining foreclosures are helping to propel a broad recovery in the housing market.
The price gains spanned from hard-hit cities like Miami to places such as Denver, which never saw a big boom-and-bust cycle.
Progress is visible in two newly released sets of numbers. The Standard & Poor's Case-Shiller index showed nationwide price gains averaging 3.6 percent in the third quarter of 2012, compared with the same quarter a year earlier.
The S&P Case-Shiller report also included numbers for 20 major cities. Only two show price declines for the year. Those were New York (down 2.3 percent) and Chicago (down 1.5 percent).
In a separate report on Tuesday, an estimate of price changes from the Federal Housing Finance Agency (FHFA) said that US home prices have risen 4 percent over the past year, using the same gauge of comparing third-quarter figures for 2012 and 2011.
Both reports are watched closely by economists.
---