Workplace has no 401(k). Could states help?
Six in 10 private-sector employees aren't offered a retirement plan at work. So California and a few states are looking to offer them retirement plans.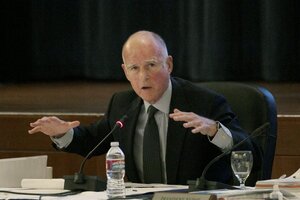 Jeff Chiu/AP/File
The 401(k) plan is a great way to save for retirement. But what happens if your employer doesn't offer one?
Strikingly, that's the case for the majority of workers in the private sector. Some 58 percent of workers ages 25 to 64 have no retirement plan at their current job, according to the Center for Retirement Research at Boston College. Traditional pension plans are declining, experts say, and many small firms offer no retirement plan at all. Even if firms do offer a retirement plan, some of their lower-wage workers struggle to participate, which leaves only Social Security for many to rely on.
"It's a looming crisis," says Ken Jacobs, chairman of the Center for Labor Research and Education at the University of California, Berkeley. "If the issue is ignored, more and more people will retire into economic hardship."
California and other state and local governments have begun trying to come up with solutions. The most far-reaching proposals call for creating a new retirement plan aimed at workers who currently lack one. These would provide a payout component, designed like a pension, to supply steady income in retirement that would last a lifetime.
California is already studying such a plan. Gov. Jerry Brown recently signed a law establishing the California Secure Choice Retirement Savings Trust. A feasibility study remains to be done, and a finalized plan would still need approval from the state Legislature.
Under the plan, California businesses with five or more employees that don't already offer a retirement plan would provide workers with access to a payroll-deduction system. Employees would kick in about 3 percent of salary on a pretax basis, with the funds pooled and invested by a board chaired by the state treasurer. The plan would provide a modest, guaranteed retirement income backed by a private insurer.
---