Need help with money? Play a game.
New online games help players with money by making personal finance fun. 'Financial Football' teaches basic money concepts. 'SaveUp' helps members with money by rewarding them for saving.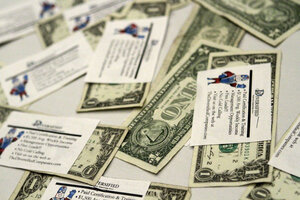 Mary Altaffer/AP/File
What if digging out of debt were as easy as playing an online game?
That's the goal of a new crop of personal finance applications, including Financial Football and SaveUp. The gamemakers hope that by playing the games, people will learn good personal finance habits that will translate to the real world.
Financial Football is an online video game wherein success on the football field depends on the player's knowledge of basic money concepts – think the "Madden" video game series combined with a personal finance quiz. A joint project of Visa and the National Football League, it has different age levels: 11 to 14, 14 to 18, and 18-plus.
SaveUp takes a more comprehensive approach. The San Francisco-based start-up asks consumers to sign up (free of charge) on its website, then lets them link their financial accounts and obligations – from checking to college and car loans. The software helps them track their financial activity.
The motivational key to the program is the prizes that members can earn. For the money they save, they earn points that they can either redeem for rewards or use to enter raffles for prizes that run the gamut from Starbucks gift cards to a $2 million jackpot. (No actual money is in play.)
"It's like dieting," says Priya Haji, who co-founded SaveUp with gaming software developer Sammy Shreibati. "When [results] are incremental it's hard to stay motivated. [But] the small chance that something life-changing can happen at any time is very motivating."
SaveUp won't release its member numbers, but a ticker on the site boasts that users have saved more than $150 million so far, and paid down more than $130 million in debt.
The idea is to develop good behaviors through repetition and positive reinforcement – similar to how video games promote certain strategy and motor skills. It's an attempt to overcome a huge obstacle for the personal finance industry: getting people to keep coming back.
"Americans only look at their finances when they're worried about it, and not frequently outside of a reactive situation," Ms. Haji says.
---