Pizza Hut perfume: Yes, it's real
Pizza Hut perfume, which started out as a joke, is now being produced in limited quantities in Canada. The Pizza Hut perfume 'boasts top notes of freshly baked, hand-tossed dough.'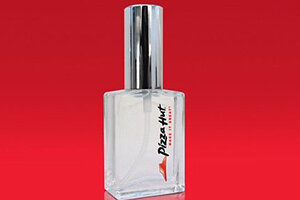 Pizza Hut Canada
No matter which way you slice it (sorry), Pizza Hut has long been an innovator in the pizza industry: The chain gave the world stuffed crust, after all.
But now Pizza Hut is channeling its creative streak into other ventures, releasing its own Pizza Hut perfume.
"Introducing Pizza Hut Perfume – a brand new fragrance from Pizza Hut Canada boasting top notes of freshly baked, hand-tossed dough," reads the press release from Pizza Hut and Yum! Brands.
Appropriately enough, it began as a joke: Pizza Hut Canada's marketing firm, Grip Limited, posted a tongue-in-cheek Facebook post on the Pizza Hut Canada fan page, asking, "Do you love the smell of a box of Pizza Hut pizza being opened? We thought so. If that smell was a perfume, what would it be called?"
Thousands responded, some requesting a bottle of Pizza Hut perfume for themselves. And so it was.
"The limited edition perfume was designed to commemorate Pizza Hut Canada reaching 100,000 Facebook fans," the release reads. "Only 110 bottles were produced and shared with lucky Facebook fans who won a bottle by being among the first to share their desire for Pizza Hut perfume."
"Will we be seeing Pizza Hut perfume in department stores any time soon? Only time will tell," it goes on.
---