Starbucks $450 steel card: class warfare in a coffee cup?
Starbucks $450 gift card is made of stainless steel and will only be available in limited quantities through a luxury goods website. Is the Starbucks $450 steel gift card a sign that Starbucks is going "1 percent" on us? Or is it just harmless, splurgy fun?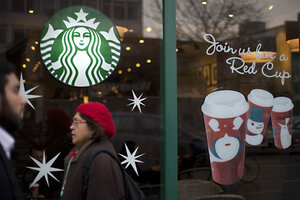 David Goldman/AP/File
One-percenters need their coffee too, and Starbucks has just the thing.
The global coffee chain has just announced what will be the most opulent gift card ever: the Limited Edition Metal Starbucks Card. For a mere $450, you can get the java enthusiast in your life $400 worth of Starbucks coffee, plus a gold-level Starbucks membership (the extra cash pays for the card itself, which costs $50 to make).
The cards will go on sale this Friday, Dec. 7. Just 5,000 will be produced initially, and they will only be available through the luxury goods website Gilt.com.
A gift card made of metal may be a little too reminiscent of the clunky tools and appliances used on "The Flintstones," but rest assured: The company writes via email that the card only weighs 20 grams, about the same weight as eight pennies. Once you go through the $400, it's refillable, and it comes with all the perks of a Starbucks Gold level membership, including a free birthday drink.
A $400 gift card would keep the coffee flowing for a long time. USA Today has a nifty infographic showing how far the Steel Card would go depending on the drink: 106 Grande Frappuccinos, for example, or 205 Grande brewed coffees (without tax).
---