Powerball jackpot winner revealed in Arizona. How to handle winning millions.
Powerball jackpot winner claiming the second half of last month's record $587.5 million prize has emerged in Phoenix, joining a Michigan couple in claiming the prize. A 2005 Powerball jackpot winner from Idaho weighs in with long-term advice for the new winners.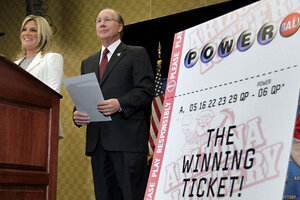 Matt York/AP/File
Nearly two weeks after the drawing for the biggest Powerball jackpot in history, the second winner of the $587.5 million pot has emerged.
Matthew Good, of Fountain Hills, Ariz., near Phoenix, collected his half of the record jackpot earlier this week, according to lottery officials. After taxes, he walked away with a lump sum of $192 million. Mr. Good's name was released as the result of a public records request from the Associated Press. Lottery winners in Arizona, as well as several other states, cannot remain anonymous and claim their winnings.
Good hired a team of financial advisers in the wake of his win and decided to claim his money now, to avoid potentially higher taxes in 2013, according to AP
The other winners, Mark and Cindy Hill of Dearborn, Mich,, came forward just a few days after the Powerball drawing to claim their prize.
The news cycle will soon move away from the jackpot winners and onto other things. But according to one fellow Powerball winner, the attention is far from over.
"It was bigger than I had even imagined, and I had planned for it," says Brad Duke, who won a $220 million Powerball jackpot in 2005. "I had people camping in my yard. And I worked at a public place at the time, so I got two to three business proposals every day. At one point my number got out, and I couldn't turn on my phone without [accidentally] answering a call."
Mr. Duke kept his job managing several Gold's Gym locations in Boise, Idaho for a time after his win, and says he got pitches for a slew of investment opportunities – from the relatively tame, like oil, gas, and real estate, to the completely wacky, including flying cars and one very serious pitch for investing in a time machine. "This guy was in total belief that he could do it if someone would give him a chance," Duke says.
Duke didn't come forward to claim his winning for about four weeks, using the time to assemble a buffer of financial advisers, lawyers, and trusted friends and family members to deal with the onslaught of scrutiny and help decide what to do with the money. And even he was caught off guard.
"It took about a year for it to be considered normal manageability," he says. "But even now we get crazy things, so it never goes away. It has to be part of your long-term plan."
One of his biggest struggles, and one that every lottery winner faces, was whether to avoid or embrace the extra attention. "I tried to embrace it a little bit because we wanted to create more opportunity for the things I wanted to do."
That included growing his wealth and getting attention for his Idaho charity, the Duke Family Foundation. The exposure has brought some great things, including a lot of money for my foundation.  We're now one of the premiere fundraisers in the state during the summer."
Duke's advice for Matthew Good and the Hill family? Take the life you had before the win into consideration to prepare for the onslaught of attention. "Whatever is going on in your life will be amplified to the Nth degree, good and bad," he says "That should dictate the plan that you set forth for yourself financially, personally, spiritually, all of it. Everything will be different."
Furthermore, he says, deal with your newly found wealth in a way that suits your personality. Duke is outgoing, and he wanted to do things to to grow his wealth that required a lot of networking and interaction. "If you're more shy and private, think about an annuity," he suggests. 
Finally, "be thankful and gracious that it's you. Never take it for granted, even during the hard times it may or may not bring."
---