Airfares on the rise: Southwest adds fee for no-shows
Southwest Airlines announced a fee on travelers who miss flights without canceling their tickets. It's one way airlines are adding new fees along with increasing ticket prices.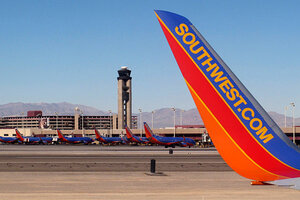 Ted S. Warren/AP/File
The cost of air travel keeps going up, with the latest example of the trend coming from Southwest Airlines.
The airline says that in 2013 it will charge fees on customers who don't show up for flights and have failed to cancel their tickets ahead of time. That's a shift from a longstanding policy by the carrier of letting people who miss flights apply the cost of the unused ticket toward future travel.
Such a "no-show fee" is just one way that fees in the air travel industry have been rising, and it comes as basic fares have also been going up.
Average fares during the second quarter of this year were 4 percent higher than they were a year earlier, according to the latest quarterly numbers tracked by the Bureau of Transportation Statistics. And fares are up 17 percent since the final quarter of 2007, when the US entered a deep recession that lasted through the middle of 2009.
For comparison, overall consumer price inflation has come in just below 2 percent over the past 12 months, and at 9.5 percent since December 2007.
Many airlines have been struggling to return to profitability, even as core costs such as fuel and employee health care have been rising.
Southwest CEO Gary Kelly said the no-show fee will bring the airline into closer alignment with policies of other airlines, and can benefit customers, too.
"By our research, customers understand that we all could benefit – customers and the company – from the opportunity to resell a seat," Mr. Kelly said Friday, according to the Associated Press. "Once the airplane takes off and [a seat] is empty, we can't ever reclaim that."
---