A look at America's gun industry
Per capita ownership of firearms in the US has doubled since 1968.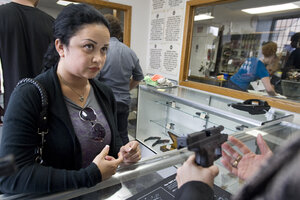 Jebb Harris, The Orange County Register/AP
As the debate over gun control gains new urgency in the wake of the mass shooting in Newtown, Conn., the firearms industry in the United States is thriving. Gun sales are setting records, driven by fear, politics, and recreation. Here is a brief overview of the US gun industry.
Q: How big is the US firearms industry?
Its total economic impact on the United States this year is estimated at $31.8 billion, according to the National Shooting Sports Foundation. While that's less than 1 percent of the US gross domestic product, it's about what Americans spend on the arts in a year, and the equivalent of Nigeria's federal budget for 2013.
While tracking sales of firearms in the US is tricky, federal officials report that they were higher than ever in 2012. Through the end of November, the FBI had recorded 16.5 million background checks for gun purchases this year – the most since the FBI began tracking such data in 1998. The actual number of guns sold is higher, since registrants can buy multiple guns. Also, private sales and many gun-show sales do not require an FBI check. While no current figures are available, past estimates of private sales of firearms (no background check required) put the figure at 40 percent of all sales.
Q: What's driving the rise in gun sales in the US?
---