Did you buy that car in 2013? Why Ireland changed its license plates.
Until Dec. 31, Irish license plate numbers included the last two digits of the year the car was purchased. 2013 has changed all that.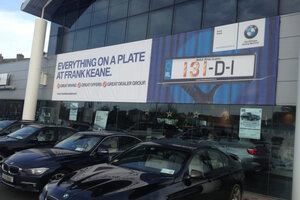 Jason Walsh
Is Ireland's new license-plate system really a result of superstition over the number 13?
You wouldn't think triskaidekaphobia, or fear of the number 13, was much of an issue in the modern age, but you'd be wrong – at least if Irish news reports are to be believed.
As of this year, new vehicles in Ireland won't feature the "controversial" number on their license plates. Independent lawmaker Michael Healy-Rae tabled the idea in Ireland's parliament and, despite ridicule, it was passed in August and came into force on Jan. 1, 2013.
Until three days ago, Irish license plates read year of registration, county or city, and number of car registered. So the first car registered in Dublin in 2012 would be 12-D-1 and the 4,000th car registered in Cork would be 12-C-4000. There are currently 2 million private cars on Irish roads.
But the advent of 2013 sent a collective shiver through the owners of car dealerships. Or, more accurately, through those who represent them.
Mr. Healy-Rae, for example, worried that even a small drop in car sales brought about by superstition over the number 13 would damage the car-selling industry. So from this year onward, the year will be divided in two, so license plates on cars bought in the first half of this year will read 131 while those sold in the second half will read 132.
This isn't the first time license plate changes have been contemplated. In 2008, the Green Party, then a junior coalition partner in government, sought to remove the year from display altogether, arguing it encouraged consumerism. Nothing came of the plan, but today, worries are more likely to be that too few cars are sold, rather than too many.
---