AIG, saved by US bailout, now considers suing US government
AIG may join a lawsuit alleging that the terms of the US government bailout were unfair to investors, but such a move risks infuriating the taxpayers whose money saved it from ruin.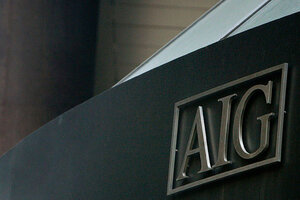 Brendan McDermid/REUTERS/File
The directors of insurance giant AIG plan to meet Wednesday to consider joining a lawsuit against the US government, arguing that federal officials imposed unfair terms on the company while rescuing it from collapse during the financial crisis.
On its face, the idea sounds preposterous.
Had American International Group (AIG) not been the beneficiary of a federal bailout in 2008, it would have entered bankruptcy and seen shareholder value wiped out, financial experts generally say. To raise legal quibbles over the bailout terms sounds like a stranded hiker, post-rescue, complaining that he was carried to safety in a truck rather than a high-speed train.
The potential lawsuit comes as the company has reached a positive milestone for itself and for US taxpayers: It has managed to pay off the bailout funds and emerge as a firm fully in the private sector once again.

The members of AIG's board are surely aware that involvement in a lawsuit won't win any awards in the public eye for political savvy or self-awareness. Not to mention that it would contradict the "Thank you, America" slogan of TV ads in which the insurer expresses gratitude for the rescue while also touting its payback of taxpayer funds.

But company directors are also charged with looking out for shareholder interests. It's possible they might decide those interests are best served by joining one of two lawsuits under way against the federal government.
---