Target pajama recall: Children's clothes fail flame tests
Target pajama recall: Target and the Consumer Product Safety Commission have issued a recall for two-piece children's pajamas sold between Aug. 2012 and Nov. 2012. The pajamas can be returned to Target for a full refund.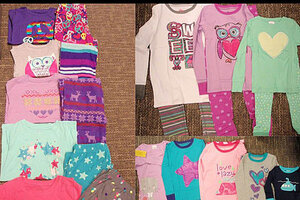 CPSC
Target and the Consumer Product Safety Commission have issued a product recall for two-piece children's pajama sets. Some 560,000 of the children's pajamas have been sold by Target in stores and online between August 2012 and November 2012.
According to the CPSC: "The children's cotton or cotton/fleece pajamas sets fail to meet the federal flammability standards for children's sleepwear, because they do not meet the tight-fitting sizing requirements. This poses a burn hazard to children."
The garment manufacturer is Makalot Garments Co. Ltd., of Taiwan. The CPSC recommends that consumers take the recalled pajamas away from children and return them to any Target for a full refund.
Recalls for children's products are not uncommon. In the past six months, there have been at least nine recalls of children's clothing, and five of those were for pajamas, according to the children's recall report on Parents.com.
Here's a link to the full CPSC recall list for children's items (not including toys).
Here's the full text of the CPSC recall statement:
WASHINGTON, D.C. - The U.S. Consumer Product Safety Commission, in cooperation with the firm named below, today announced a voluntary recall of the following consumer product. Consumers should stop using recalled products immediately unless otherwise instructed. It is illegal to resell or attempt to resell a recalled consumer product.
Name of Product: Children's two-piece pajama sets
Units: About 560,000
Importer: Target Corp., of Minneapolis, Minn.
Manufacturer: Makalot Garments Co. Ltd., of Taiwan
---