Debt ceiling: With debate on hold, where is US economy headed now?
With the debt ceiling's threat no longer imminent, the US economy appears to be stuck in neutral, waiting to be pushed forward or back. Here are head winds and tail winds competing for influence.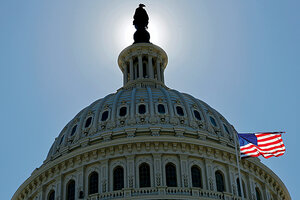 Alex Brandon/AP/File
Like a sailboat caught in the doldrums, the US economy in 2013 is looking for a puff of wind to get it moving again.
Seemingly every bit of positive economic news is offset by some that is negative:
Tax rates for most everyone who works are up, now that the payroll tax cut has expired, but then so is the housing market. Consumer confidence is down, but a leading cause for that dip has expired with the resolution, however much criticized, of the crisis over the "fiscal cliff." Job creation is uninspiring, but corporations are loaded with cash.
While the US economic ship is in calm waters for now, the most visible clouds on the horizon are angry and dark and coming from Washington, in the form of the debate over raising the federal debt ceiling. House Republicans passed a bill Tuesday suspending the debt ceiling for three months to facilitate negotiations over the federal budget, but the measure, which is also expected to pass the Senate, does not bridge the gap on spending issues and may serve only to forestall the battle.
Exactly how perilous is that D.C. drama over the debt ceiling to the nation's economic health? The nerve-racking brinkmanship on the issue in the summer of 2011 was enough to spook Wall Street and lower the US debt rating.
And if the word "recession" isn't on the lips of most economists, some trace a path in that direction if the debt-ceiling issue isn't resolved.
But more on that later. First, let's take a look at why the economy is stuck in neutral, or as John Silvia, chief economist at Wells Fargo Securities in Charlotte, N.C., terms it, why "we are entering a slow-motion situation."
How slow? Mr. Silvia estimates the gross domestic product will increase at a 1.4 percent rate in the first quarter before showing some improvement, ending the year growing at a 2.4 percent annual rate. In other words, the economy may not be much different than last year.
Here are some of the head winds and tail winds the 2013 economy is facing:
---