Have degree, driving cab: Nearly half of college grads are overqualified
New study finds that 48 percent of college graduates are in jobs that do not require a college degree, fueling consumer doubts over whether a college education is worth the cost.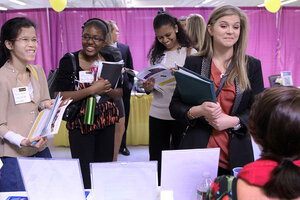 Jim Cole/AP/File
Here's a new data nugget in a high-stakes debate over the state of working America: A new study finds that about half of all workers with a college degree are overqualified for their current jobs.
Some 48 percent of the degree holders, to be precise, are in positions that the US Labor Department classifies as requiring less than a four-year college education.
This finding, released by the Center for College Affordability and Productivity, a research group in Washington, underscores growing public concerns about the availability of good jobs and the value of college education.
"In the three occupations 'retail sales person,' 'cashier,' and 'waiters and waitresses' there are more than 1.7 million college graduates employed," says the study by researchers Richard Vedder, Christopher Denhart, and Jonathan Robe.
Today, 15 percent of US taxi drivers have a college degree, up from less than 1 percent in 1970.
The study arrives at a time when news articles asking, "Is college worth it?," have become commonplace.
Although the new report suggests the answer often is "no," this is a complicated issue, with other scholars defending the idea that expanding higher education will benefit individuals and the economy.
For instance, for people focused on their own financial well-being, it's worth noting that a college degree tends to result in both higher pay and lower unemployment. The jobless rate is currently 3.9 percent for workers with a college degree or higher, versus 8 percent for high school grads and 11.7 percent for people without a high school diploma.
---