US economy turns south: Why many analysts see a blip, not a trend.
The US economy reversed more than three years of growth and fell 0.1 percent in the fourth quarter of 2012. The drop was driven, in part, by sharp declines in defense spending that some expect will be temporary.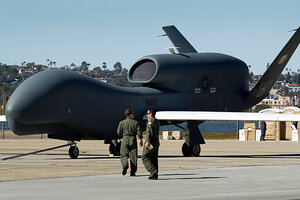 Mike Blake/Reuters
Like a bolt out of the blue, the US economy suddenly pitched into reverse last quarter after 13 straight quarters of growth.
America's gross domestic product fell at an annual rate of 0.1 percent in the fourth quarter, the Commerce Department reported Wednesday. But the decline in GDP looks to be attributable to one-time factors rather than a signal of an oncoming recession, some economists say.
A surprisingly sharp reduction in federal spending on defense for the quarter, coupled with a reduction in private-sector inventory buildup, combined to exert a slowing effect on the economy that was equal to about 2.5 percent of GDP, on an annualized basis.
That was enough to drag overall GDP down, even as residential construction improved and consumer spending – typically the economy's driving force – continued to rise.
Forecasters interpret the fourth quarter's negative forces as largely temporary. Defense spending, for example, can be volatile but doesn't generally fall at such a sharp rate.
Alan Krueger, who chairs President Obama's Council of Economic Advisers, said in a White House blog post that the plunge in defense spending – a 22 percent annualized rate, the largest quarterly decline in 40 years – was "likely due to uncertainty" about the possible imposition of automatic spending cuts by Congress, now scheduled to take effect March 1.
Also, this is the Commerce Department's first estimate of the quarter and is subject to revision as more complete data come in.
---