The newest app? Creating jobs.
The entrepreneurial-minded app industry has created more than 520,000 jobs in its first five years – and should continue to be an area of growth in an otherwise weak economy.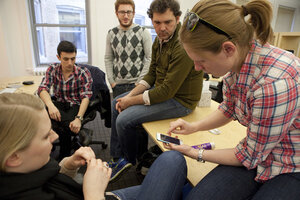 Melanie Stetson Freeman/The Christian Science Monitor
In his senior year at Bowdoin College in Maine, Ben Johnson led the development of an iPhone application called Free Time – a shareable calendar that reveals blocks of availability amid hectic schedules. He knew he was onto something when feedback quickly poured in from halfway around the world.
"Getting a complaint from someone in Qatar that their weekend starts on Thursday, and we coded it to be Saturday and Sunday, is a pretty eye-opening complaint," Mr. Johnson, now 23, says.
Since its debut in May 2011, the app has been downloaded more than 200,000 times. Johnson's work earned the attention of Raizlabs, a Boston-based mobile software company, which offered the curly-haired Mississippian a job before he'd even walked the stage at commencement.
It's an impressive feat considering 53.6 percent of college graduates with bachelor's degrees under the age of 25 in 2011 were under- or unemployed, according to an April 2012 analysis by The Associated Press.
---