Where the next Silicon Valleys might be
One way to identify tomorrow's hubs of innovation is to look at cities whose residents are granted the most patents, which includes smaller places such as Burlington, Vt., and Corvallis, Ore.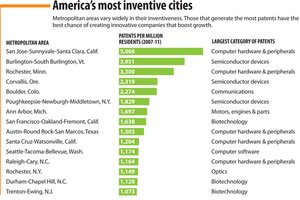 Rich Clabaugh/Staff
The 1970s were not kind to Seattle. The Economist magazine had dubbed it "the city of despair." Its big employer, Boeing, had endured multiple setbacks and had shed jobs. To counteract the gloom, two real estate agents tried a little humor with the billboard message "Will the last person leaving Seattle turn out the lights."
Then in 1979, the founders of Microsoft moved their small software company from Albuquerque, N.M., to Seattle, their hometown. At the time, the cities had roughly similar labor markets. Seattle had just five more college graduates per 100 residents than Albuquerque did.
But with the subsequent boom of Microsoft, Seattle has transformed itself into one of America's premier Knowledge Economy cities. It now has 45 more college graduates per 100 residents than Albuquerque has. Those graduates, who in 1980 outearned Albuquerque's by $4,200 a year, now outearn them by $14,000.
The city's cultural and social scenes are vibrant. Seattle's crime rate, which was higher than Albuquerque's in 1979, is now lower.
"We keep thinking of the US as one labor market," says Enrico Moretti, an economist at the University of California at Berkeley and author of the book "The New Geography of Jobs." "The reality is that there are 300 labor markets" – one for each metropolitan area.
---