What message to Wall Street from US lawsuit against Standard & Poor's?
The Justice Department's civil lawsuit against the credit-rating agency Standard & Poor's aims to assign responsibility for the recent financial crisis. But expectations that Wall Street will change its ways are mixed.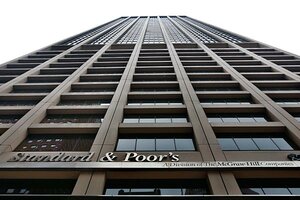 Brendan McDermid/Reuters
With its civil lawsuit against credit rating agency Standard & Poor's, the US Justice Department is embarking on one of the most aggressive efforts yet to hold Wall Street accountable for the financial crisis.
As the government's first crackdown on a rating agency, the suit, filed late Monday in federal court in Los Angeles, marks a watershed moment in the investigation into the financial meltdown. It's a bold move that the government is hoping will send a stern warning to Wall Street – and has already sent a jolt through the stock market – but one that some analysts predict will do little to change "business as usual."
The Justice Department's lawsuit claims that S&P "knowingly, and with intent to defraud ... executed a scheme to defraud investors" by giving triple-A ratings to shoddy mortgage-backed securities that led to one of the worst financial crises since the Great Depression.
"The failures of credit rating agencies were essential cogs in the wheel of financial destruction," the Financial Crisis Inquiry Commission wrote in its final report, in 2011. "This crisis could not have happened without the rating agencies."
---