Gas prices hit a historic high: What's driving them up?
Gas prices hit a national average of $3.59 Monday – the highest ever for a Feb. 11. Several factors will continue to drive up costs, but not to last year's highs, analysts say.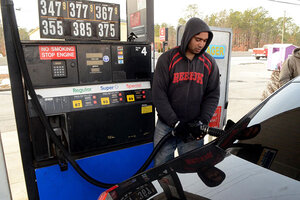 Danny Drake/The Press of Atlantic City/AP
A combination of high crude prices, refinery shutdowns, and early speculation has sent gas prices soaring to seasonal highs earlier than usual this year, with no signs of prices at the pump falling until spring, according to recent estimates.
Gas prices have climbed every day for the past 25 days, reaching a national average of $3.59 per gallon Monday, the most expensive national average ever for Feb. 11, according to AAA.
During just the past two weeks, average prices have climbed almost 25 cents, the biggest jump in gas prices in almost a year.
"This is a very early rise," says Tom Kloza, chief oil analyst at the Oil Price Information Service. "January has tended to be a quiet month through the years, but the rally really began in earnest around Jan. 15."
Gas prices tend to increase in late February as refineries shut down for maintenance ahead of the busy summer driving season.
There are three reasons for the spike, say analysts.
Higher crude prices. This rise, especially overseas, has pushed up prices at the pump, says Michael Green, a spokesman at AAA.
"This year oil prices are rising with expectations that the global economy will continue to improve," says Mr. Green. "Gas prices are intimately connected to oil prices, [which are] very much connected to what is going on in other parts of the world. Events overseas have a big effect on prices American motorists pay at the pump."
---