American-US Airways $11 billion merger: What's in it for travelers
Analysts say there could be a modest rise in airfares after the American-US Airways merger, but service and amenities should improve, and the industry is still very competitive.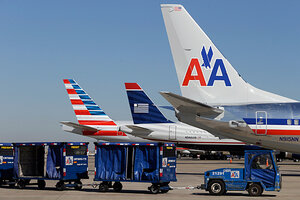 LM Otero/AP
Capping an era of consolidation in the troubled airline industry, the boards of American Airlines and US Airways agreed to a merger late Wednesday, an $11 billion deal that would create the world's biggest airline with the most passenger seats.
The combined airline will retain the American Airlines name and have more than 6,700 daily flights to 336 destinations in 56 countries.
The merger ends an era of consolidation that has stabilized the airline industry and helped return it to profitability – with mixed results for consumers.
While consumers can expect some turbulence – like modest fare increases – as a result of the merger, analysts say there are some bright spots.
"I'm actually very optimistic," says George Hobica, founder of discount alert site Airfarewatchdog.com. "We're going to see an improvement in service … happier airline employees, and newer planes with more amenities."
The American-US Air merger, which is pending approval by federal regulators, is the final union in a series of mergers that has whittled the US airline industry from 10 major players in 1988 to just three legacy airlines today – Delta, United, and now American. That's left four airlines, including Southwest, controlling 83 percent of domestic seats.
That consolidation is part of a larger trend many industries have undergone since deregulation, says Clifford Winston, a senior fellow at the Brookings Institution.
---