Wall Street shrugs off 'sequester': Why is it ignoring Washington this time?
The stock market, flirting with all-time highs, seems relatively unfazed by Washington's latest fiscal stalemate over the sequester. Here are six reasons for the new attitude.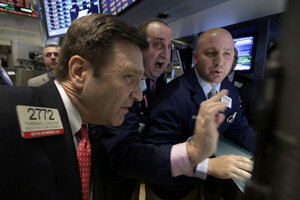 Richard Drew/AP
Sweeping government spending cuts are set to go into effect by the end of Friday, a move some in the government have called calamitous – and yet financial markets appear to be unfazed by the "sequester."
The across-the-board cuts have inspired doom-and-gloom scenarios, with government officials warning it would result in airport delays, furloughs in the Pentagon, reduced border security, lost access to Head Start for almost 5,000 low-income children – and potentially more forest fires and chicken shortages.
Previous fiscal showdowns in Washington – like the "fiscal cliff" standoff late last year – left investors jittery and the stock market wobbling. This time, analysts say, the market is ignoring Washington's antics.
"The market has completely shrugged it off," says Marc Chandler, global head of currency strategy at Brown Brothers Harriman. "People have barely batted an eyelash."
Indeed, Wall Street indexes closed higher on Friday: The Dow Jones Industrial Average rose by 0.25 percent to close at 14089.66; Nasdaq rose 0.30 percent to close at 3169.74; and the Standard & Poor's 500 rose by 0.23 percent to close at 1518.21.
---