Consumer optimism takes a dive, despite buoyant stock market
A new Monitor/TIPP poll finds that 6 in 10 Americans, facing shrinking income and rising taxes, say that the economy is still in recession, despite economic reports that the slump is over.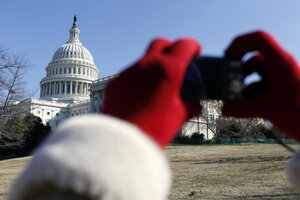 Kevin Lamarque/Reuters
Americans' overall economic mood has soured significantly during the past month, as rising gas prices, higher payroll taxes, and disarray in Washington have all taken a toll on consumers.
That's the finding of a new Christian Science Monitor/TIPP poll, conducted between Feb. 25 and March 5.
The poll's monthly index of economic optimism fell to a reading of 42.2, down sharply from 47.3 a month earlier.
Any reading below 50 signals general pessimism in Americans' economic spirits
The decline represents a worrisome signal, even though the Monitor/TIPP poll arrives as the overall mood in financial markets is bullish. On Tuesday, the Dow Jones Industrial Average moved to a record high in morning trading, finally regaining ground lost during the recession of 2007-09.
The stock market appears to be signaling investor confidence that the US will avoid a recession, and that corporate profits will continue to rise. That, in turn, increases net worth for millions of families who have savings invested partly in stocks.
But several other factors have weighed on the consumer outlook.
"The job market is still persistently weak," says pollster Raghavan Mayur, president of TechnoMetrica Market Intelligence, which conducts the poll for the Monitor and for Investor's Business Daily.
"Income is getting shrunk," he adds, by the recent expiration of temporary payroll-tax relief. That amounts to a 2 percent pay cut for workers.
A rise in gas prices acts like another tax hike, while high-income families also face higher income taxes in the new year.
Gas costs an average of $3.74 per gallon as of Tuesday, up from $3.51 a month ago, according to the AAA Daily Fuel Gauge Report.
---